Degas, The Graceful Painter
Edgar Degas was the eldest of five children. In 1870 Edgar changed his surname from de Gas to the less aristocratic sounding 'Degas' despite being born into a wealthy Franco-Italian family, he was encouraged from an early age to pursue the arts, though not as a career. After he graduated in 1853 with a baccalaureate in literature, the eighteen-year-old Degas registered at the Louvre as a copyist, which he claimed later in life is the foundation for any true artist.
In 1855 he briefly attended law school before being admitted to the École des Beaux-Arts in Paris. Then in 1856, when Degas was 22, he traveled to Naples, Italy, to visit his aunt, the Baroness Bellini and her family. This three-year trip resulted in the Realist portrait The Bellini Family. He spent countless hours combing the museums and galleries of Italy, carefully studying Renaissance works by Michelangelo, Raphael and Titian, among others.
In 1864, while copying a picture by Velázquez at the Louvre, he met Édouard Manet, who by chance was copying the same painting. His friendship with Manet was instrumental in the development of Impressionism. While Degas was serving with the National Guard in the Franco-Prussian War (1870-71), he realized that his eyesight was much less than perfect – this can be seen even in his most celebrated paintings.
Although the 1860s was a productive period in Degas's career, his most renowned body of work was created in the 1870s. He drew inspiration from the boulevards, cafés, shops, dance studios, drawing rooms, theaters and operas of Paris, a city he had fallen in love with. He became well known for his close observation, and his ability to capture the detail of human beings. He sought to capture fleeting moments in the flow of modern life, but showed little interest in painting plein air landscapes, instead choosing to depict scenes in theaters and cafés illuminated by artificial light, which he used to clarify the contours of his figures, adhering to his training.
Paintings such as Foyer de la Danse (1872), Musicians in the Orchestra (1872) and A Carriage at the Races (1873) demonstrate how Degas assumed unconventional point-of-views, suggesting the perspective of a distracted spectator.He favored scenes of ballet dancers, laundresses, milliners.
His interest in ballet dancers intensified in the 1870s, and eventually he produced approximately 1,500 works on the subject. However, these are not traditional portraits, but rather studies that address the movement of the human body, exploring the physicality and discipline of the dancers through the use of contorted postures and unexpected vantage points. In Dancer Adjusting Her Slipper, the figure's pose is difficult to decipher, viewed from a steep angle with both her feet and her head at the bottom of the picture, yet it conveys a sense of the dancer's flexibility.
Despite having never to have reconciled himself to the label of "Impressionist," preferring to call himself a "Realist" or "Independent" he remained was one of the group's founders, an organizer of its exhibitions, and one of its most important core members.
From 1872 to 1873, Degas made an extended trip to New Orleans to visit his brother René and other family members, including his uncle, who operated a failing cotton exchange. During this trip, he produced a number of important paintings, including A Cotton Office in New Orleans (1873), the only one of his works to be purchased by a museum in his lifetime.
Degas remained a bachelor throughout his life, and had few, if any, romantic relationships. Which some speculate is the reason for his unusual and generally unflattering images of women. He may have meant to suggest the figures caught off-guard, though feminist critics have pointed out that the effect is often degrading.
As the 19th century came to a close, Degas stopped creating as much and instead began spending more time collecting the works of other artists he admired. He purchased work by contemporaries such as Manet, Pissarro, van Gogh, Gauguin and Cézanne, as well as older artists who had informed Degas as a young man, like Delacroix and Ingres. Late works, like the bronze Woman Rubbing Her Back with a Sponge (1900), is a testament to Degas's continued devotion to capturing the female form, but nothing he created in this period matches the power of his early work.
Degas had an almost scientific interest in a range of media, including engraving, monotype, and photography. Before 1880, he generally used oils for his completed works, which were based sketches made in pencil or pastel. But after 1875, he began using pastels more frequently, even in finished works, such as Portraits at the Stock Exchange. By 1885, most of his more important works were done in pastel, he even submitted a suite of nudes, all rendered in pastel, to the final Impressionist exhibition in 1886. The figures in these pastels were criticized for their ungainly poses, as in this work, in which the figure squats awkwardly in a tub, yet the steep perspective gives the work a solid, sculptural balance.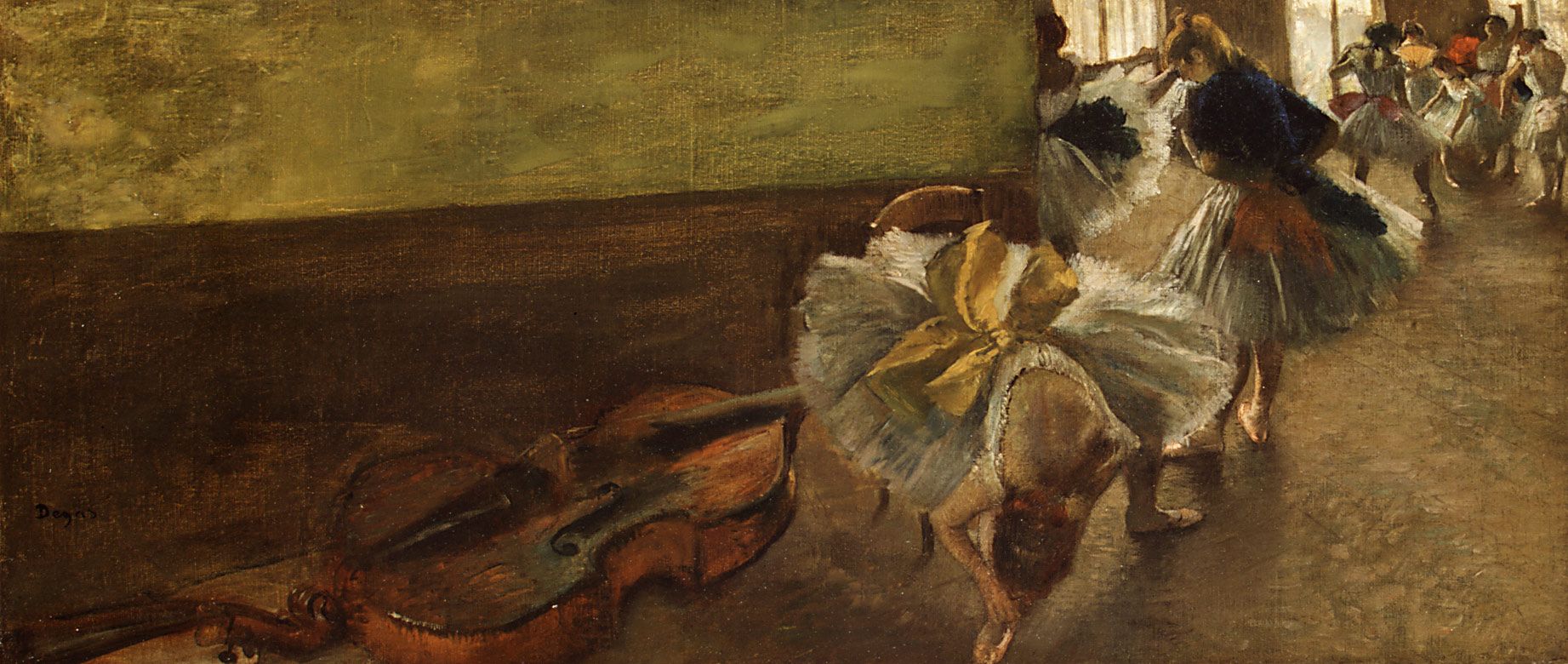 Degas abandoned oil painting later in his life but he continued to work in a variety of other media, including pastels and photography, however as his eyesight worsened sculpture became his preferred medium. He slowly became a recluse, and most of his friendships with artists like Manet and Renoir, eventually dissolved.
Although Degas suffered criticism during his lifetime, by the time of his death his reputation was secure as one of the leaders of late 19th century French art. His standing has only increased since his death, though since the 1970s he was been the focus of a lot of scholarly attention and criticism, primarily focused around his images of women, which have been seen as misogynistic.